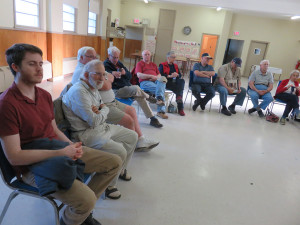 Meetings
Meetings are held on the second Tuesday of each month from September through June. Our principal meeting place is at the North Woodside Community Centre, 230 Pleasant Street, Dartmouth from 7:00 pm to approximately 9:00 pm. Occasionally, meetings are held at other local venues of interest to members. Past venues have included Lee Valley, East Coast Speciality Woods and Busy Bee. Changes in venue will be announced at the meeting before the change, on this website, and in the member newsletter.
Typically, a meeting begins with a few words from the Chairperson concerning Association business and activities. This is followed by Show-and-Tell when members share work samples, describe their methods and take questions. Members are also encouraged to ask questions or discuss current methods, practices and products. The remainder of each meeting is dedicated to one or more special presentations by a member or an invited speaker.
Special Events
Our December meetings provide an opportunity for members to socialize as well as share their skills with members of the community. In the spirit of the season, members are invited to build and bring toys to this special meeting, traditionally held at Lee Valley Tools. Members display their work, describe their process, and take questions. After the meeting, all toys – as well as cash contributions – are donated to the Salvation Army Christmas fund.
The March meeting each year incorporates the Annual General Meeting which normally includes election of members to the AWA Executive and Board of Directors.
As opportunities arise, outside of monthly meetings, visits and tours to studios, galleries, workshops, and businesses are organized by the membership.
The association seeks to undertake a community minded project normally proposed and realized in the spring and summer in which members volunteer their time and effort using their woodworking and carpentry skills in a charitable venture.
Use the menus above to learn more about recent association news, member benefits and how you can join the association.