Oct. 10, 2017 – North Woodside Community Center, 230 Pleasant, Dartmouth
26 members and guests in attendance
Call to order by chair, Stephen Parsons, at 7:10
Business & Reminders
Welcome guests. Review of agenda.
Review of Minutes
Business Arising
Presentation
New Business
Show and tell
MOTION: Accept agenda as presented.
MOVED: Phil Carter SECONDED: Gary Dumas CARRIED
Business Arising
Stephen reviewed committee structure and chairs, agreed by BOD

Finance & Compliance: Co-chairs Stephen Parsons, Phil Carter)
Member Services: Walt VanderKeift
Marketing & Communications: Mary Elizabeth O'Toole)
Details on committees will follow and members will be invited to join
Mary Elizabeth asked feedback on sharing information such as newsletter beyond membership. Discussion followed to and general feeling is to continue to build Facebook with more promotions to members, increased activity. At this time, consensus of members in attendance to share summary of newsletter, highlights of meetings and promotion of upcoming events through Facebook but to continue to keep newsletter for members only
Presentation
Maritime Ship Modellers' Guild members John Green and David Porter share some of their models and process. We learned the details of several of projects, as well as more about the originals on which they were modelled.
John started by showing us 125th scale model of a Dragon Class ocean racing yacht, the 109th model he has completed. This example is a plank-on-frame style. Planks were cut on a Dremel table saw with a 3" blade. John used a set of drawings and gradually built up the timbers along the frame. He works mainly in pine and bass but did make bluenose models with maple. John prefers to make accurate scale model so he researches the original and uses detailed drawings.
The next model was of the Emma C. Berry, 132nd scale model built with timbers glued together as in an actual keel. Based on an original that was 67' long on deck, this is a skeletal model designed to illustrate the internal structure.
David showed us quite a different style. His passion is radio controlled models. His boats are not typically based on specific ships. David described two main approaches to building model ships:
Plank on frame, follows traditional boat building techniques that uses skeletal structure covered with planks to build the keel.
Bread and Butter design, which reduces thickness and expense by using waterlines of a plan then layering planks to create a hull
If you are interested in seeing radio controlled boats in action, Like Maritime Ship Modellers Guild on Facebook and watch for event listings in locations in that include Shubie Canal and Point Pleasant Park.
John and David extended an invitation for members to visit the Maritime Museum of the Atlantic to see more models and displays, as well as view modellers at work. Darrell is going to follow-up about coordinating a group tour.
New Business
Reminder of toy challenge for December meeting, which will be held at Lee Valley
Suggestion for members to donate items for an auction, in addition to raffle. Gary identified donated items for raffle – Tony has donated raw edge piece – no action taken on adding silent auction – members invited to make donation for raffle prizes to increase increase/income
Show and Share
Members rose to the monthly challenge of doing some work with a plane:
(Not shown, Mary Elizabeth shared a hand-planed poplar table top and Julie spoke about picture albums she makes for donation)
Other Business
Brad gave us a brief reminder of the importance of safety and taking precaution around all tools and not becoming complacent. He emphasized the importance of attention and safety supports including push blocks at the jointer.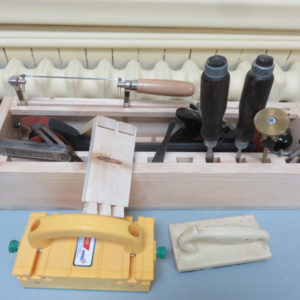 Brad also gave us an update on his hand tool club at Hands on Halifax
50 / 50 draw – Bob and Ted split the $37 prize
Next Meeting / Challenge
Oct 14 – Presentation TBA
CHALLENGE: Build something at a smaller scale than you usually use.
This content is restricted to AWA members. If you are an existing user, please login. New users may register below.