AWA Meeting Minutes – AGM 2017
March 14, 2017 – North Woodside Community Center, 230 Pleasant, Dartmouth
15 members and guests in attendance (last minute storm likely contributed to low numbers)
Call to order
Chair Gary Dumas called the meeting to order at 7:10
Reports
Gary presented the Annual Report with highlights of the 2016-2017 year. See attached report
Highlights included:
Membership is down slightly from last report with 35 paid
Through 2016, meetings were held at South End Baptist Church but as of January 2017, we moved to a new home at North Woodside Community Center which offers several advantages – rent is more reasonable, we are able to store library for no extra charge and Wifi is available
The library has been updated and is now being managed electronically with check-in and out possible directly at the meeting
Presentations included sharpening scrapers (Don Shubaly), sharpening handsaws (Guy Lanctot), and laser engraving (Trevor Edis). Members also participated in several tours.
There has been good participation in various monthly challenges including something with gears, furniture, joints and the year-end 2×4 challenge
In Aug, we had a fun AWA BBQ, which was well attended. A big thanks to Ted Monk and his wife, Debbie for hosting the event for us – hopefully first of an annual event
Our Christmas toy drive resulted in close to 300 toys and over $550 cash for the Salvation Army through a raffle with prizes of two Lee Valley gift cards purchased by association as well as donations by Lee Valley and members
Our other community project this year was Bravery Bead boxes for the IWK – 44 boxes donated
Motion that report be adopted as read.
Moved by Phil Carter Seconded by Stephen Parsons MOTION CARRIED
Phil Carter presented the Financial Report for 2016 with the new simplified reporting previously approved by the Board of Directors.
2016 Income (dues, 50/50, sale of tools, sale of donated items, sale of sandpaper): $1292.50
Expenses (including admin costs, rent and insurance) totaled $2391.38
Fixed assets include library books and cabinet, projector and screen, PA system and drill doctor), which are shown as assets with no value so no depreciation is required. If assets are sold, they will be shown in income / expense statements
The financials were reviewed by our auditors, Don Shubaly and Dough MacIntosh
NOTES:
Doug Macintosh pointed out that a change of timing for payment of dues (from Sept to Mar) means that income from dues will look lower than usual for 2016 and difference will appear in 2017 report
Stephen Parsons has recently donated a laptop to the organization so we will have it for presentations. It will be added to the fixed asset list
Dave Schlosberg asked if financial reports have been submitted to Joint Stocks. We have not done this for 2015-2016. Mary Elizabeth will check on requirements and ensure compliance with all documentation
Motion to accept as presented
Moved by Tom Patterson Seconded by Walt Vanderkift MOTION CARRIED
Election of Officers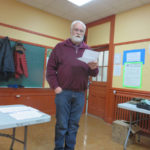 Tom Patterson gave the report of the nominating committee, which included Tom as well as Gene Nurse and Stan Salsman.
The committee submitted a full slate of nominations:
POSITION
NAME
Chair
Stephen Parsons
Vice Chair
Brad Holley
Past Chair
Gary Dumas
Secretary /Communications
Mary Elizabeth O'Toole
Treasurer
Phil Carter
Librarian
Tom Sevaes
Registrar
Walt Vandekieft
Events Coordinator
Darrell Hamilton (supported by resource committee)
Web Master
Don Shubaly
Members-at-Large
Doug MacIntosh (Trustee / Member Auditor)

Sheila Eddy (Trustee / Member Auditor)

Bob Baird

Stan Salsman
As required by rules of order, Tom called three time for nominations from the floor. No new names were offered.
Nominations were accepted as presented
New Chair Remarks
Ste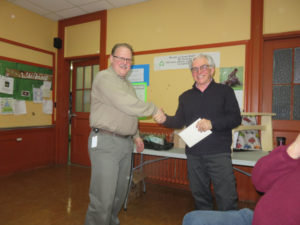 phen Parsons presented an overview of some new plans and approaches then thanked Gary for service with a card and gift from the members (a LV Gift card).
Stephen also thanked the nominating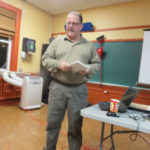 committee for their efforts and great slate of nominees. Stephen finished with suggestions for possible outreach including Hands-on-Halifax for sharing resources and promotions, and brought up plan to add member links on our website for added value as well as extra exposure for participating members
AGM adjourned at 8:05 Regular monthly meeting followed after short break.
This content is restricted to AWA members. If you are an existing user, please login. New users may register below.