Don Shubaly got the meeting underway promptly at 7pm as we had a very full agenda.
Don laid out the agenda for the evening; First the AGM, then the presentation by John Woods, Next up the "Mini-Challenge" followed by Show and Tell and time permitting "Ask the Members"
As per our By-Laws the AGM has to take place once a year and within 90 days of January 1st of each year.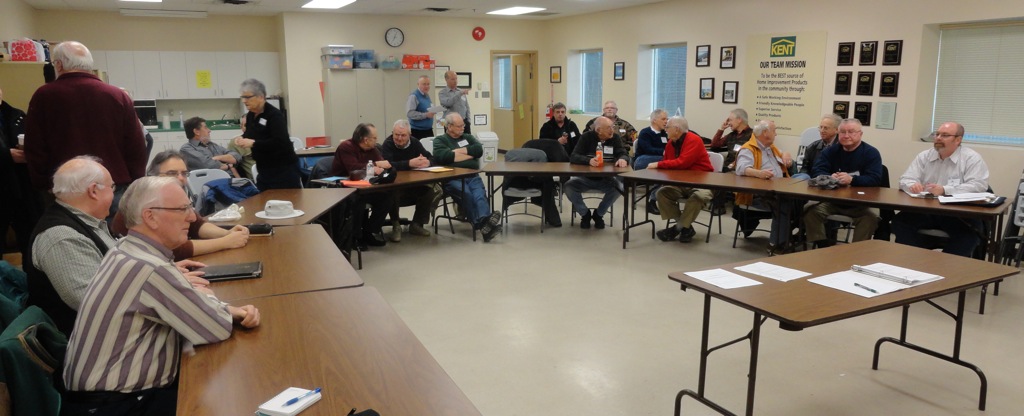 The AGM was called into session at 7:08PM March 13, 2012 by Don Shubaly
1. Review of the minutes of the 2011 AGM on March 8,2011
2. Chairs Annual Report (distributed earlier via email)
3. Financial Report by Ken Miller
4. Election of Officers was not required
5. Auditors for next year were appointed. Phil Carter and Doug MacIntosh agreed to carry on this function.
The 2012 AGM adjourned at 7:31PM
Don called for any questions on the Governance or operations of the AWA. Don highlighted the general rules of succession and described the various positions in the executive as well as the roles of the assistants. David Smith had a question regarding the elected positions and Don answered that all previous positions were acclaimed. Tom Cole asked how we accumulated the funds that we have. It was explained that thru dues, raffles, tool sales and savings from not mailing newsletters all have contributed to our bottom line. Tom Patterson mentioned that a nominating committee can be used to look into filling positions for next year rather than waiting until the last minute.
Don acknowledged and thanked the Executive and Directors/Assistants for their past help and continued support for the best interest of the Association:
Gary Dumas, Tom Patterson, Mike Chisholm, Ken Miller, Doug MacIntosh, Phil Carter, Lew Hatt, David Smith, Dick Jamer, Stan Salsman, Sheila Eddy, Ted Monk, Glenn McCarron, and Gene Nurse.
Ted Monk has relinquished his duties as Librarian. David Schlosberg has taken on that Role. Thank you Ted for your contribution to the Association.
Featured Presentation
AWA member John Woods started his presentation by enticing us with the sap of the maple tree in the form of maple candy passed out by Darlene Morrison. What a great tree it is!!
John showed us slides of his other projects including his workshop, workbench, Shaker Night Table and Adirondack chairs.
John talked about his wood harvesting and process and expenses to buy the logs, cut them, transport them and planing and storing them. In the end John had a pretty impressive stock pile of wood that cost about .75 cents a board foot. Not to shabby!!!!
Moisture content and proper wood storage was also discussed.
John also showed some slides from his previous presentation last year in regards to the alternative power issue. He talked about the South Canoe Wind Farm as well a Plastic to Diesel initiative.
At the end of his presentation John had 4 beautiful boards that were drawn for; The lucky winners were Stan Salsman, Don Shubaly, Gary Dumas and Tom Patterson.
A copy of Johns Presentation is available under the "Meeting" menu.
Mini-Challenge
This month the mini-challenge was "Handles" Each participating member showed their work.
Glenn McCarron built a handle for a mallet. Actually he built the whole mallet since he didn't have one in his shop. The handle was made from cherry and the top from maple. Both pieces were spun on the lathe and then finished with minwax antique oil.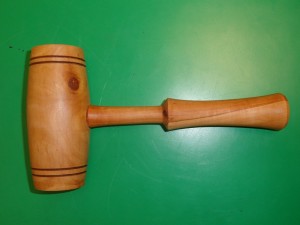 Don Backman made a set of chisel handles with a stainless steel ring on the end to help reduce splintering while pounding on them. All handles were distinctly different and well done!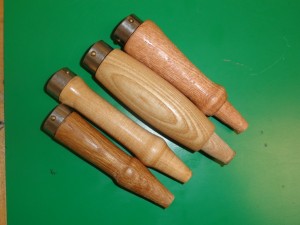 Gene Nurse spun a handle from Claro walnut for a screwdriver multi-tool.

Tom Cole built some spruce shed door handles.
Don Macmillan replaced a handle on a fingernail file before holding us up with his toy Scout gun. Built with a piece of pipe insulation, a cork and wooden handle. It's obvious Don had been practicing his aim.
David Schlosberg built a set of drawer pulls.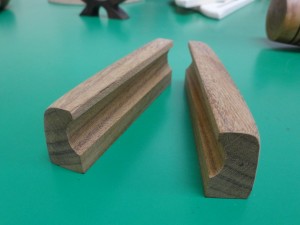 Bill Richardson made a bag handle for carrying those overloaded grocery bags.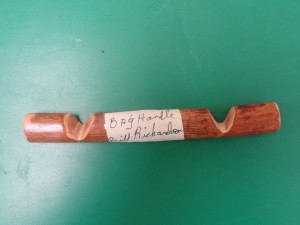 Stan Salsman made a grocery bag handle as well.
Tom Patterson made a frying pan lid to make cooking his eggs perfecto!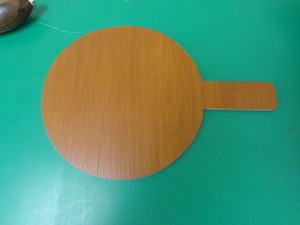 Doug MacIntosh built a teak knife handle and magnetic guard. The knife was also made from a old band saw blade.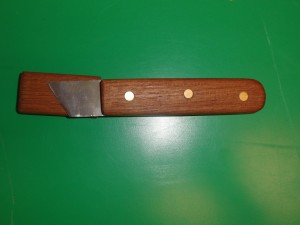 Gary Dumas made a unique oriental design door handle from a piece of zircote.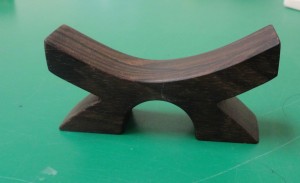 Sheila Eddy made a set of bag handles from pine.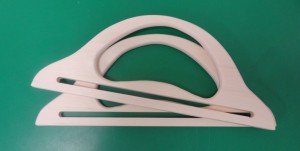 New Mini-Challenge
The challenge for next month is "You've been Framed"
Build any type of frame. Picture frame, door frame, window frame. Use your imagination and see where it takes you.
Wood Challenge
Anyone who has not picked up their pine can do so after the meeting.
Show and Tell
Glenn McCarron brought in his version of a board game called "Settlers of Catan" that he built for his daughter. It was constructed from different exotic woods that represented different things in the game. Zebrawood represented wood, yellow heart represented wheat, lacewood represented rocks, roasted birdseye represented sheep, padouk and maple was used to look like brick, and butternut represented desert. The outside frame was made from maple and contained rare earth magnets and pins to align the pieces. There were houses, mansions, roads, tokens, a robber and dice that were made from African blackwood and 1/8 inch birch dowels. Glenn also built the hexagon box and cover using maple for the base and cherry for the top. All were built using box joints. These were particularly challenging as they had to be cut on a 60 degree angle but both ends were opposing angles. The game was finished with Minwax Antique Oil.
David Schlosberg brought in a tray that he had built. The tray is a mitered frame made from recycled 9/8X9/8 black walnut stock with an inset bottom of 1/8th inch Baltic Birch. The interior profile of the walnut was made with a thumbnail router bit. The exterior profile is made with a 3/8 cove bit.
The finish on the walnut is five coats of satin wipe-on polyurethane. The bottom is three brushed coats of regular satin poly. I was quite pleased with finished look; and, so far, the finish is standing up well to usage.
As we had said earlier the only thing we were going to run out of tonight was time. The "Ask the member" segment will move to the next meeting, hopefully!!!!
Another great meeting with great participation from the members.
This content is restricted to AWA members. If you are an existing user, please login. New users may register below.