Welcome to the website of the Atlantic Woodworkers' Association (AWA).
We are a group of professional and amateur woodworkers dedicated to:
Developing skills through self-education
Keeping up with the latest woodworking methods and tools
Sharing our knowledge with those interested in woodworking
Helping the youth of our community to learn the skills of woodworking
Serving our community through woodworking.
Formed in 1981, our association is celebrating over 35 years of learning and educating in the art of woodworking.
Please enjoy your visit to our online home. If you'd like to attend one of our meetings to learn more about us, check the events page for our next meeting and we will be happy to welcome you there. For more information, please use the menu links above or send us a message through our Contact page.
What's New?
Reviews
Several new book reviews may be found in the Member Reviews section of the site. Our Chair, Gary Dumas, reviewed two library holdings – Woodworkers Guide to Veneering & Inlay, by Jonathon Benson, and Made By Hand: Projects From The Unplugged Woodshop, by Tom Fidgeon. Mike Winslow added a new review of Relief Carving Workshop, by Lora S. Irish. Be sure to check out their input on these interesting library references.
AWA in the Community – Bravery Beads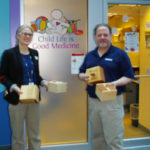 In the spring of 2016, we were approached by the Nova Woodturning Guild to join them and the Mayflower Quilt Guild to collectively support the IWK Bravery Bead program. Our guilds were recruited to contribute handmade boxes or bags to replace the plastic bags being use for the patient bravery bead collections. On January 19, 2017 Stephen Parsons and Mary Elizabeth O'Toole met with Lisa Arsenault of IWK Child Services to present the AWA donation. Read more in our AWA in the Community Page.
Upcoming Meetings
Feb. 14, 2017 – Brad Holley is going to show some hand planing techniques. He'll be using three wooden jigs to progressively taper 5/16″ square wooden blanks into handmade chopsticks.
Remember to bring your challenges for the Feb. Challenge which is to use a finish that you have not used before (or not used in some time) OR a finish that you are using in a new way. And bring any other projects – recent or otherwise, that you would like to share. Show and tell is also a great chance to ask questions if you have challenges or design issues.
March 14, 2017 – AGM. Tom and Gene are our nominating Committee so you might get a call from them asking you to join the Board. If you are interested in taking a more active role in the organization, they would be happy to speak with you at the Feb. meeting.
April 11, 2017 – Bill Howe will present tips about using spokeshaves. More details to follow.
Recent Meetings
January 2017 marked our first meeting in our new home at the North Woodside Community Centre. Our members shared a diverse and impressive collection of creations in response to the monthly challenge of something with moving parts. The presentation by Don Shubaly provided some great information in using finishes, especially shellac.
In December 2016, we held our annual toy drive meeting at Lee Valley. Kevin Hurst, Lee Valley Assistant Manager, demonstrated some new products – and provided a number as a generous donation for our fund-raising raffle. We donated more than 200 toys AND $555 to the Salvation Army Christmas programs.
The November 2016 Meeting featured a multimedia presentation by Phil C. chronicling the apprenticeship of his son, Murray to become the 17th generation Yoshimoto bladesmith, interspersing YouTube videos with demonstrations of Murray's beautiful knives and related products. The monthly challenge was for a new technique or new application and there was quite a substantial show-and-tell. The monthly meeting will be moved to a new site at the North Woodside Community Centre starting in January.
The October 2016 meeting included a great lesson on handsaw sharpening from new association member Guy L. Guy brought along a few old saws, his vintage saw vise, and a few Lee Valley supporting pieces including files and saw sets. Several members presented their monthly challenge (unit with a drawer) including a safety stand (Walt V.), a second look at Stephen P.'s Beckvoort-inspired art desk, Bob B.'s mule case, Brad H's fine half-blind dovetail drawer carcass, and then a non-drawer presentation of Gary D.'s amazing kneeling dais.
The September 2016 meeting was highlighted by a presentation on laser engraving on wood by new member Trevor E. (Blue Crab Creative Design). Trevor explained to members about how he and his wife formed and developed their current ornamental woodwork business and how both creativity and technology (in the form of a computer controlled laser engraving machine) are used to develop the many products they have developed for craft and tourist markets.