Welcome to the website of the Atlantic Woodworkers' Association (AWA).
We are a group of professional and amateur woodworkers dedicated to:
Developing skills through self-education
Keeping up with the latest woodworking methods and tools
Sharing our knowledge with those interested in woodworking
Helping the youth of our community to learn the skills of woodworking
Serving our community through woodworking.
Formed in 1981, our association is celebrating over 35 years of learning and educating in the art of woodworking.
Please enjoy your visit to our online home. If you'd like to attend one of our meetings to learn more about us, check the events page for our next meeting and we will be happy to welcome you there. For more information, please use the menu links above or send us a message through our Contact page.
What's New?
Reviews
Several new book reviews may be found in the Member Reviews section of the site. Our Chair, Gary Dumas, reviewed two library holdings – Woodworkers Guide to Veneering & Inlay, by Jonathon Benson, and Made By Hand: Projects From The Unplugged Woodshop, by Tom Fidgeon. Mike Winslow added a new review of Relief Carving Workshop, by Lora S. Irish. Be sure to check out their input on these interesting library references.
AWA in the Community – Bravery Beads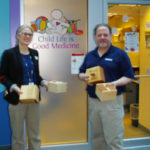 In the spring of 2016, we were approached by the Nova Woodturning Guild to join them and the Mayflower Quilt Guild to collectively support the IWK Bravery Bead program. Our guilds were recruited to contribute handmade boxes or bags to replace the plastic bags being use for the patient bravery bead collections. On January 19, 2017 Stephen Parsons and Mary Elizabeth O'Toole met with Lisa Arsenault of IWK Child Services to present the AWA donation. Read more in our AWA in the Community Page.
Upcoming Meetings
Tuesday, May 9, 2017 – Our guest presenter will be Simon Shaw, a violin maker and Paris trained bowmaker. He will share some of his products and processes with us.
During our show-and-share, Don Shubaly is going to discuss learning from a revisit of a previous project – and we are going to reintroduce the popular 'Ask-a-member' segment of our meetings.
The challenge for the month is to make something with a spokeshave or, if you are feeling ambitious, to restore or even make a spokeshave of your own.
Recent Meetings
April 11, 2017 – Bill Howe shared his amazing collection of spokeshaves and told us a little of the history and development of this versatile tool and gave us some handy tips on use. He also gave us a chance for some hands-on practice.
March 14, 2017 included our AGM followed by a short monthly meeting. Gary Dumas became past chair after many years in the chair position, handing the reigns over to Stephen Parsons. Tom and Gene, our nominating Committee submitted a slate of nominees for the 2017-2018 BOD and slate was elected as presented.
After a short break, we had a presentation from Brad Holley (now our new Vice Chair) about a custom hutch he had made usually mostly hand tools.
February 14, 2017 was right after a couple of days of the biggest storm of the season. Unfortunately, snow and bad road conditions kept quite a few members away this month but those that made it in enjoyed the presentation by Brad Holley. Brad showed some hand planing techniques that demonstrated how to use three wooden jigs to progressively taper 5/16″ square wooden blanks into handmade chopsticks.